"I'm someone who loves to mine the facts," observes Maya Lin as she pours over maps of the waterways which now traverse Manhattan or once did.  Her sculptural rivers trace their paths so New Yorkers can visualize the scale, shape, and evolution of their water system.  "Think," the sculptures seem to cry.  "Can we remember what used to be before humans remade the landscape?  If so, then imagine!  Can we restore at least a fraction of what we have destroyed?  How resilient would our coastline be if we hadn't annihilated the oyster beds and salt marshes which mitigate storm surges?"  Post-Hurricane Sandy, these are poignant questions.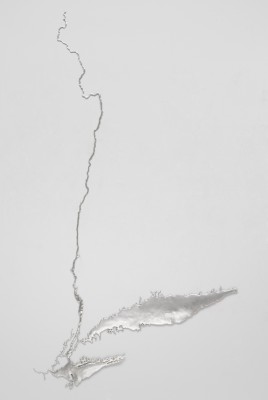 Artist's Statement
This piece is part of a series of sculptures examining New York's ecological past – going back to the time when streams and marshes covered Manhattan through to Hurricane Sandy when rising sea levels wreaked havoc on the city. I want to encourage viewers to rethink their immediate surroundings, to understand a place like New York City by asking: what's literally below our feet?  What used to be there, historically and topographically?  The latter question is key because if we forget what used to be, we've lost an ability to be sensitive to our surroundings.
It's really hard to understand an ocean or a 1,000 mile-long river as an interconnected whole, because oceans and rivers tend to span borders and so many different zones.  I focus on mapping as a way to translate the enormity of a place to a scale we can see and understand.
I start with extremely complex scientific data points and then, through a visual editing process, find the scale and simplicity of the form, revealing a visually discernible and compelling landscape.  The sculptural forms present the facts, then I can step back and let the viewer reflect.
Artist's website: http://www.mayalin.com