Please take our survey when you are done viewing the video. Your input is important to us.
ABOUT THIS FILM:
Do you ever wonder how scientists gather evidence that the planet's climate is changing? Well, step inside Iceland's famous glaciers to observe ice melt. Or go scuba diving with climate researchers atop coral reefs in Panama. Exploration is key to solving some of Earth's greatest challenges – and answering essential questions about climate: how fast is our climate changing? What impacts can we expect? And what can we do about it?
Now you can be an explorer yourself! 360° video puts you in the middle of the action, alongside the world's leading climate researchers. By controlling the viewing angle of the display, you become an active observer in examining information.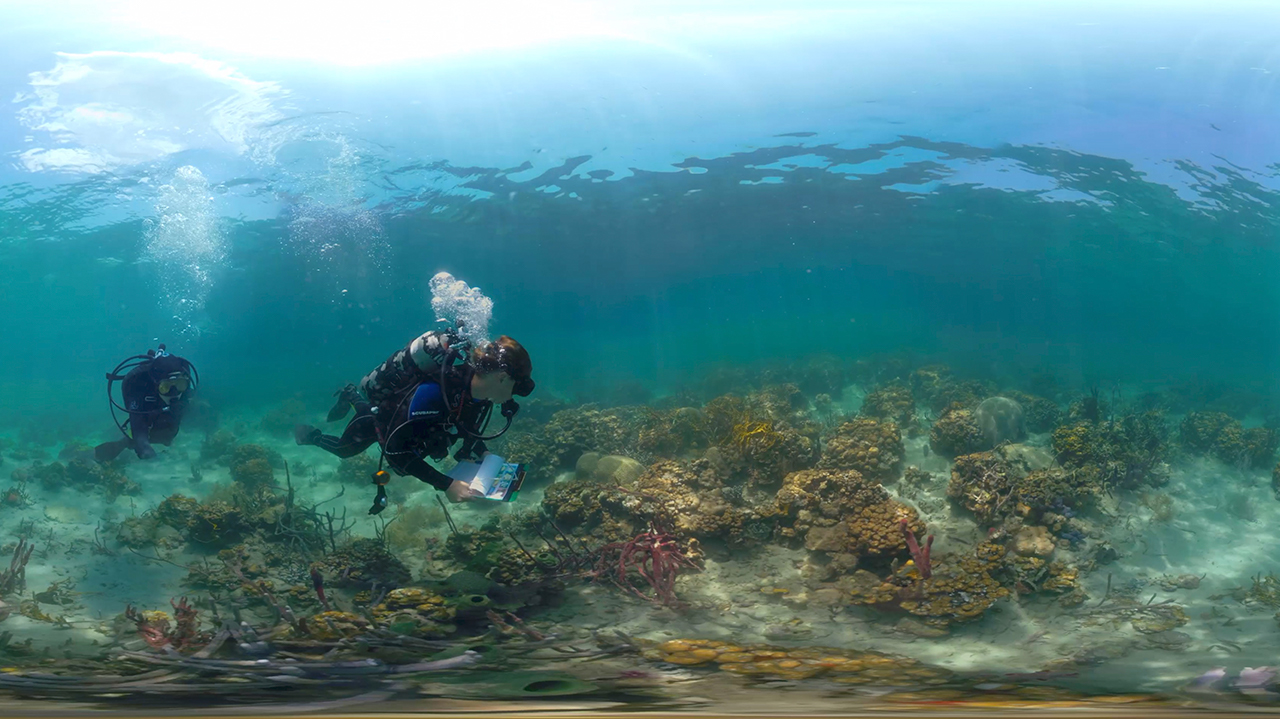 Honoring the Future and videographer Steve Johnson poured through hours of film footage from some of the world's most beautiful locations to select scenes for this film.
Using this 360° video, you can now travel to the far corners of the globe. See glaciers melting in Iceland. Join scuba divers in Panama as they measure the health of delicate coral reefs, one rectangular block of reef at a time. Take a deep breath as you sit on the edge of a cliff in California's Yosemite Valley. Catch the energy and excitement in New York City's bustling Times Square! It's all just a click away.
Running time 6:42 min.
Video produced by Steve Johnson and
Fran Dubrowski.
Videography: Steve Johnson
Additional underwater footage provided
by Clare Fieseler.
HOW TO USE 360°
What is Virtual Reality ("VR")?
Virtual reality is an immersive video experience that allows you to "look around" in a 360° world.
Do I need a VR headset to watch this film?
All you need is a smartphone to pan and rotate in 360° to experience this film using the YouTube app for iOS or Android.
Where can I get a VR headset?
Google Cardboard is a low-cost virtual reality headset that allows anyone to experience these films using a smartphone.
How can I watch this film on my desktop?
You can pan and rotate in 360° on a desktop when viewing the film on the latest version of Chrome, Firefox or Internet Explorer. Simply click and drag on the video to "look around."
Behind the Scenes Filming 360°