What can you do with a broken zipper? To artist Kate Cusack, the answer seems simple: create beautiful art! The Brooklyn-born artist refashions zippers discarded by fashion designers into elegant, sculptural jewelry.
Cusack is one of several artists working with repurposed material who will be featured at the Smithsonian Craft2Wear Show, October 6 – 8, 2016, in Washington, DC. Others include textile artists Cecilia Frittelli and Richard Lockwood.
Cusack aims to awaken our sense of wonder: "I give a discarded zipper new life by creating innovative jewelry that celebrates the power of imagination and promotes recycling."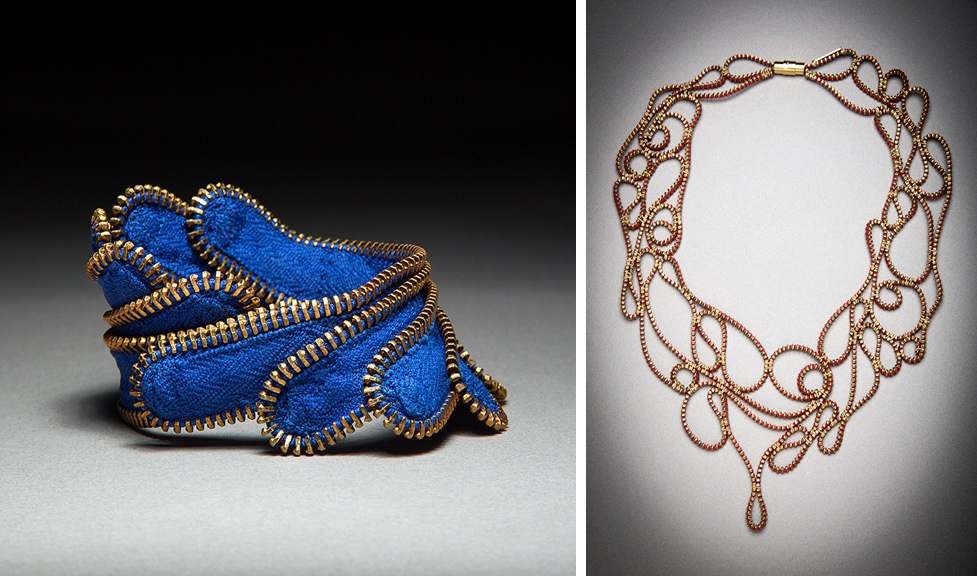 Her creativity stems, in part, from her background in art and theatrical design: she earned her BFA from the Maryland Institute College of Art and her MFA in costume design from the Yale School of Drama. While most designers would see a zipper as merely functional – and a broken zipper as utterly useless, Cusack sees aesthetic potential in its varying tensions: "I enjoy the contrast between the zipper's harsh metal teeth and the fluid, whimsical shapes that I can create with its flexible fabric."
Her craft is so transformative viewers often don't realize her jewelry began life as a zipper. She delights in seeing them discover its origins: "There is an exciting 'a-ha' moment when someone realizes that there is more to my creation than they initially expected."
The element of surprise is central to her message: "My artwork encourages the wearer to think twice about the world and to see beauty and potential in everything," she says.
Frittelli and Lockwood weave contemporary clothing and accessories from natural fibers – silk, merino, and alpaca – and eco-friendly fibers such as bamboo, hemp, and soy. The artists strive for a zero-waste studio, upcycling leftover fabrics into pieced and patchworked clothing.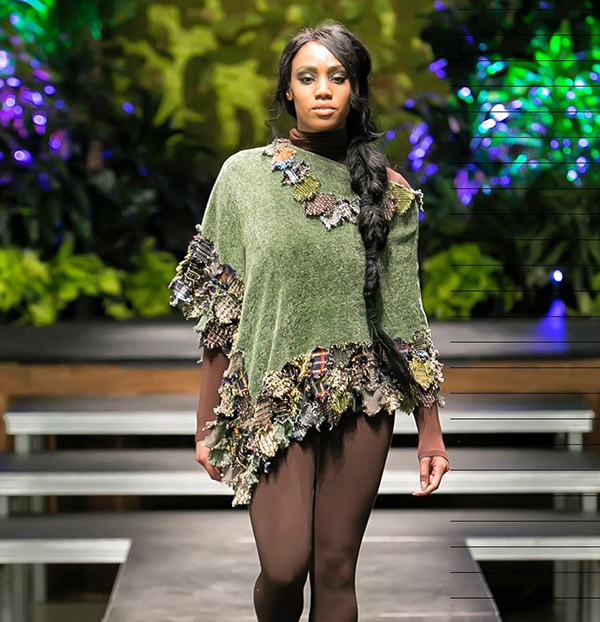 Their business extols community and sustainability. Fibers are sourced nationally, or even locally when possible. Their Saratoga Springs studio – located in a building they repurposed to acclaim from the local preservation society – is both a production and an education center, inviting customers to stop by and witness weaving in action.
"We're providing a beautiful product, at a reasonable price, that's made with love in a small factory or craft shop. People respond to that," Frittelli explains. "It's the opposite of the impersonal, consumer kind of process that so many of us go through in many other aspects of life," Lockwood adds.
Both artists find reward in bringing ideas from concept to fruition: "There are very few times in our lives these days where you have connection with something, completely, all the way through," says Lockwood. "Our lives are fragmented in so many different ways that the thought of coming up with an idea, seeing it through to completion and then passing it on to somebody else is quite wonderful."

The Smithsonian Craft2Wear Show, now in its 10th year, features handcrafted, limited edition clothing, jewelry, and artful accessories from 80 designers. It will be held at the National Building Museum, 401 F St., NW (Judiciary Square metro station) in Washington, DC. The show opens with a Preview Night Party from 6 – 9 pm on Thursday, October 6 (reservations by advance purchase only). The show continues Friday, October 7, 10 am – 8 pm and Saturday, October 8, 10 am – 5:30 pm. For tickets and other information, see Smithsonian Craft2Wear Show.