Mags Harries and Lajos Heder create public art, focusing on water, energy, and transportation to connect communities practically and aesthetically. Their design for a pedestrian path adjacent to a highway, I-35, in Austin, Texas, features 15 dazzling, energy-efficient "SunFlowers, an Electric Garden."
The garden's SunFlowers are custom-made photovoltaic solar panels (which convert sunlight to electricity without producing air pollutants or greenhouse gases) and energy-efficient LED lights. By day, the SunFlowers glitter in the sunlight and shade pedestrians. By night, they dramatically illuminate the landscape.
Only 9% of U.S. energy comes from renewable energy sources (including solar); SunFlowers suggest rethinking solar systems to serve as "art plus energy."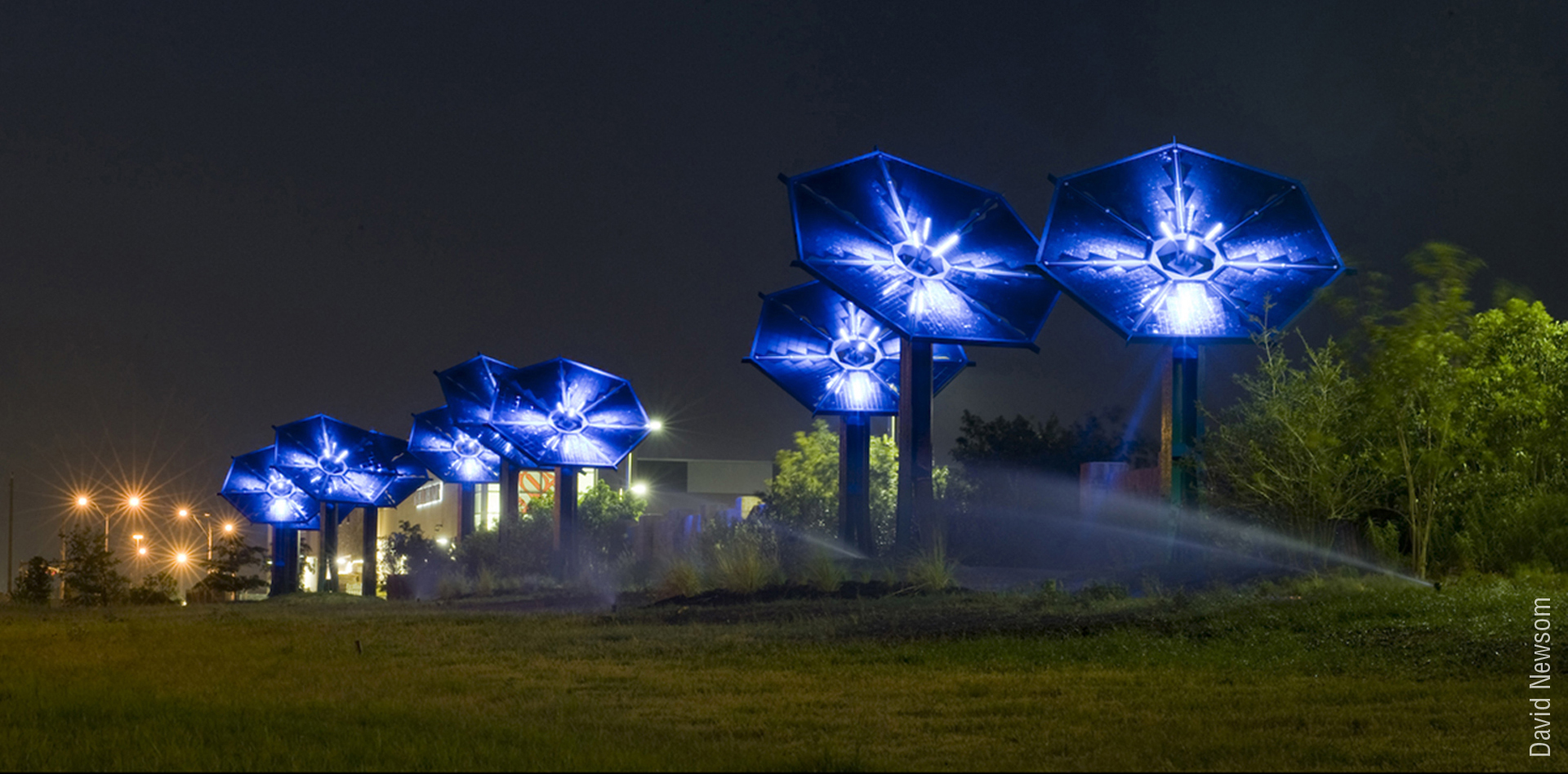 Artist's Statement:
Public art is a lot more than placing large objects in public, it can reach every aspect of the environment and realize its poetic possibilities. We make art which shapes community places, creates community rituals, and makes public places resonate with history, memory, and imagined possibilities. Our completed projects take diverse forms but they all share these intentions and a highly site-specific approach.
The 15 SunFlowers that form the Electric Garden are sculptural solar collectors that generate energy used for lighting at night. The 15 kilowatts of additional energy they produce is fed into Austin's electrical grid for credit to fund the installation's maintenance.
The project is both an icon for a sustainable LEED ("Leadership in Energy and Environmental Design)" certified development and a highly visible metaphor for the energy conscious City of Austin. Like real flowers, the SunFlowers transform sunlight into energy.
SunFlowers was initiated as a buffer to mask the loading docks at the edge of the development from the adjacent highway. Instead of merely mitigating the site, the new design makes it into an attraction and an important facility in its own right.
Artist's Website: www.harriesheder.com