In 2007, James Balog launched the Extreme Ice Survey – a collaboration among artists and earth scientists – with a daring mission: design and deploy a permanent network of ground-based, glacier-watching cameras in -40 degrees F Arctic temperatures.
Now dozens of cameras click away every half hour of daylight year-round.  Each records 7,000 to 9,000 frames annually, contributing to an archive exceeding one million frames.  Assembled in time-lapse sequences, these images provide jaw-dropping evidence of glacial retreat.  The portfolio also includes single-frame photographs celebrating the aesthetic elegance—the art and architecture—of ice.
Two months after this photo, the Extreme Ice Survey captured the largest "calving" event ever filmed at Greenland's Ilulissat Glacier as a section of ice the size of lower Manhattan collapsed.  See film.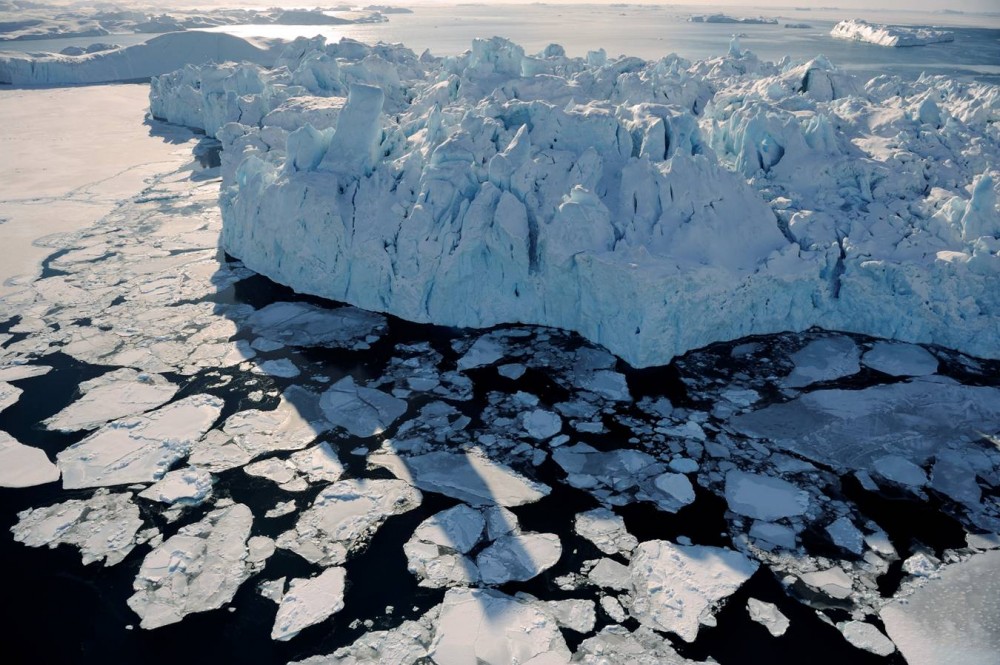 Artist's Statement:
Ice matters.  It is on glaciers and ice sheets that we can see and hear and touch and feel climate change in action.  When ice melts, everyone – regardless of age or ideological persuasion – can understand what it means.
Most glaciers, in most places where they're found, are shrinking dramatically.  North America.  South America.  Europe.  Greenland.  Asia.  Africa.  New Zealand.  The Antarctic Peninsula and West Antarctica.
What causes atmospheric warming and changing snowfall to nibble away at the ice?  The answer is simple:  the atmosphere is filling with too much carbon dioxide, methane and nitrous oxide.  It makes our atmospheric blanket – roughly five miles deep at the poles and twelve miles deep at the equator – hotter.  There's nothing hypothetical about this process: the science has been understood in general terms for more than a century and quantified by real-world measurements for half a century.
The time to act is now, not tomorrow, when the storm of crisis will have broken upon us and whatever action we take will be too little, too late.  Climate change is not a political issue.  It is not a question of belief systems.  It is a universal issue about real-world facts that should be addressed with rationality and intelligence.
From Ice: Portraits of Vanishing Glaciers, by James Balog and the Extreme Ice Survey, Rizzoli International Publications, Inc., NY, NY.
Artist's websites:
http://extremeicesurvey.org/
http://earthvisiontrust.org/
http://jamesbalog.com
See also: http://www.chasingice.com